Have you tried to apply to work-at-home positions with your traditional job resume? Are you left wondering why you aren't getting callbacks, and how you are ever going to transition to a work-at-home career? Use this post to guide you to your first, or next, work-at-home job by writing a work-at-home resume that will get you hired!
~ Some of our articles may contain affiliate links. For more information, see our Disclosure Statement.
Resume Writing and Examples
Does This Scenario Sound Familiar?
You want a new job. You dread updating your resume. You know the traditional resume doesn't cut it anymore, and there's no way the boring document you see before you is going to WOW any hiring manager.
Your new resume needs a modern design, with a touch of bot-ready magnetism. So transform your resume, and receive more interview opportunities!
Computer Bots vs Human Eyes
Once upon a time, hiring managers would accept, read, and respond to all job applications personally. Applications were completed in paper form, and often hand delivered to the place of business, likely accompanying a printed resume.
Today, most jobs are applied to online, and all correspondence is in digital form, whether you are applying for a traditional job or a work-at-home job.
---
RELATED: Legit Online Jobs at Home (Where are They?)
---
It's important to know that the majority of employers now use very smart software programs designed to "read" your resume before it ever reaches a hiring manager. So, if your resume doesn't contain the right information, it will never be seen by human eyes, and you'll never receive that call for an interview.
Not only has the traditional job resume been modernized, but the process by which you submit it has changed its criteria slightly. Observe…
The Traditional Work-at-Home Resume
Traditionally, a job resume would include:
Contact Information
Objective
Work Experience
Education
References
Though resumes have changed slightly over the last decade to shorter, more streamlined, versions of the overly-detailed predecessors, this traditional resume outline is still necessary when the position you seek requires a specific degree, license, certification, or completion of a specialized training program.
Most advanced positions will often require experience (sometimes years), and if you are switching companies within the same field, you may need to provide references to verify your employment as well as skill set.
What's changed?
It used to be that employers wanted your entire work history. There was a time when people worked the same job for years, decades even.
But, in today's world, the fact is that people switch jobs often, and many rarely work anywhere longer than a few years. There's no benefit to the employer, or the applicant, in providing a resume with pages of unrelated or irrelevant job experience.
Only include experience that relates to, or can contribute to, the position you desire. Focus on your strongest attributes, and try to keep your resume to one easy-to-read page. Additional experience can always be discussed during the interview, if requested.
The Modern Resume
The modern job resume includes:
Contact Information
Professional Summary
Core Qualifications
Relevant Experience and Education
Your Contact Information should include:
First and Last Name
Address
Phone Number
Email Address
Social Media Handle (Optional, if you have a professional LinkedIn profile, for example.)
Your Professional Summary should be a brief description of your professional self and accomplishments. Be expressive and specific. Here are some examples:
1. Retail Associate
" Passionate retail professional with 6 years of customer service, sales, and team building experience in a demanding, fast-paced environment. Consistently increased annual department sales, in 4 consecutive years, by an average of (x%) through focused training efforts. Seeking to boost (xyz hiring company) profits by implementing my growth strategies across all departments."
2. General Sales Manager
"Accomplished General Manager with a successful track record spanning 15 years in sales and marketing. Consistently met or exceeded personal and team financial goals by (x%) year over year. Increased employee retention through development of an Employee Enrichment program. Seeking to increase profitability and positive workforce behavior for (xyz company.) "
3. Attorney
"Successful, licensed Attorney, with 20 yrs experience in (area of practice). Notable achievements include (1, 2, and 3 examples). Seeking to Partner with (xyz company) to help facilitate its regional expansion."
4. Any Previous Job Title
You can follow the examples above, and create your own Professional Summary for any profession.
Your Core Qualifications section should be concise. Use bullet points to clearly state your strengths and experience that will provide value to the employer. This should always be specific to the qualities desired as expressed through the job ad.
Include things such as:
Customer Service or Client Relations
Strategic Analysis
Cross-Functional Management
Team Leadership or Team Development
Sales and/or Marketing
Advertising
Accounting, Billing, Payroll
Computer Literacy
Community Outreach
Try to avoid over-used generic terms and phrases such as "detail-oriented," or "highly motivated" unless specifically used in the employer's job description.
The Relevant Experience and Education section is where you want to sell yourself. Your resume is not just a document. It is your personal advertisement! Tell the employer why you are the one to hire. Use strong action words such as:
Directed…
Improved…
Cultivated…
Accomplished…
Enhanced…
Trained…
Facilitated…
Achieved…
Developed…
Captained…
Executed…
Include details, numbers, and percentages where applicable.
If you have a higher education degree of any kind, include the title, place, and date.
Example:
Bachelor of Science | University of Minnesota | 2015
---
Objective Statement vs Professional Summary
A Professional Summary is now used most often, as it highlights relevant skills and accomplishments to the employer. It's the "first impression" you give to the employer. So, it's important to make it a good one!
What if you have little or no job experience?
Then, you can forego the Professional Summary section, and instead use the traditional 'Objective' statement, which will share your future goals. But, be sure to make yourself stand out!
Compare these Statements:
---
Traditional Objective Statement: To obtain a position as (job title) with a reputable company such as (hiring company's name).
Analysis: Poor. This statement serves no true purpose. It merely states the obvious, and provides the employer zero value.
---
Modern Objective Statement: To secure the (job title) position at (hiring company's name), where I can use my organization, communication, and leadership skills (or skills required per the job listing).
Analysis: Great. This statement provides direct intent, and value to the employer in that it advertises desirable qualities sought by the employer.
---
The Work-at-Home Resume
The Work-at-Home Resume includes:
Contact Information
Professional Summary or Modern Objective Statement
Core Qualifications
Relevant Experience and Education
As you can see, the modern resume design works for work-at-home jobs as well.
You still want to provide your complete Contact Information:
First and Last Name
Address
Phone Number
Email Address
Social Media Handle (Optional, if you have a professional LinkedIn profile, for example.)
You can use a combination of the Professional Summary and Modern Objective Statement to provide a clear goal and set of values.
This can be effective even if you have little or no job experience.
Focus on your skills!
"Driven, reliable, and organized. Eager to use my computer knowledge and communication skills (or skills as required per the job listing) as a top (job title) with (xyz hiring company). "
Example Core Qualifications could include:
Proficient in Windows systems
Proficient in Word and Excel
Strong Communication Skills
Strong Writing and Editing Skills
Ability to type 80 words per minute
Relevant Experience should include only the past job positions that have the ability to highlight your learned and developed skills that may be of value to the employer.
Include your dates of employment (in years is fine ie: 2012 – 2016), as employers will want to know what your most recent job position was, how long you were there, and what role(s) you performed that may translate to value for their business. Be thorough, but concise.
Relevant Education pertains to anything that extends knowledge and experience to the job for which you are applying. Only include this section if you hold a degree, certification, or license that relates to the position.
What's the Common Factor?
Presentation of SKILLS.
Your resume is your advertisement of your brand. It highlights what it is you have to offer an employer, and in order to be considered for hire, you need to stand out.
The key is to present yourself as the solution to the employer's problem.
What is the employer looking for? How can you provide those needs?
Most importantly, how do you relay the message that you have what they want?
---
RELATED: Home Jobs That Are Legit (Quick Cash and Long-Term Income)
---
You Must Use Keywords!
Whether you apply to a traditional job or work-at-home position, your resume will likely first be filtered through applicant hiring software that is programmed to find specific keywords depending on the open position.
If your resume does not contain any of the keywords, it will be discarded!
You could be the perfect applicant to hire, but if your resume doesn't relay the desired keywords, you will never make it past the initial software scan.
What Keywords Should You Use?
No need to overthink this. It's actually very simple.
You use the words they are looking for… and the words they are looking for, are in the job listing!
Let's review an example Work-at-Home Job Ad:
Each job posting will be searching for different attributes and skills, which means that for each job you apply to, your resume needs to be tailored to match.
In the example above, there are several keywords that you could include in your resume:
content editor
customer service
strong writing skills
strong proofreading skills
organizational abilities
Windows
All of those words are going to be words that the application software seeks in order to filter out unqualified applicants. So, if your resume doesn't contain any of those words, your resume will be discarded (despite whether you have those skills or not, because you didn't write it!)
TIP: Do NOT send the same generic resume to every job that you apply to – Resumes are not one size fits all!
You want to include some exact-match keywords in your resume, as they pertain to you. You don't want to lie, or submit false statements. So, you may not use all of the ad-suggested keywords.
For instance, if a job posting suggests that the applicant be someone with "experience in a virtual environment," and you have no work-at-home experience, you don't want to lie just to get past the bots.
There will be several desirable keywords to choose from. Select the keywords that honestly describe your personality, work ethic, and experience, and build on those.
Beat the Competition
As the work-from-home class continues to grow, so does the competition to secure new job openings. This means that the job market is an ambitious one, and you need to stand out.
How do you STAND OUT?
ONE:
One way to stand out is to recognize, and advertise, both your hard skills and soft skills.
What are those?
"Hard Skills" are skills that are learned, that may be reflected through the completion of a degree or certificate. If you have a teaching degree, or a business degree, include mention of your Bachelor or Master degree in your resume. Even if the degree you hold doesn't seem to have a direct relationship with the position you desire, it shows the company that you have drive, determination, and persistence.
A hard skill can also describe something that is measured, such as typing. You may see a job listing that requires "typing 80 words per minute." If you can type 80+ words per minute, then you would want to include that skill in this particular resume.
"Soft Skills" are communication skills. You may see a job listing (for customer service, for example) that requires "strong interpersonal skills." If you have experience in customer service, and have developed effective communication skills, then you would want to include these keywords in your resume.
TWO:
Another way to stand out is to show some conviction.
Include a Cover Letter that can convey your self-confidence and dedication to succeed in the new role.
THREE:
Include metrics when at all possible!
If you increased sales in a past position, state the percentage. If you lowered costs, state the dollars or percentage. If you increased customer satisfaction scores, state the numbers or percentage. If you received a generous ROI on a project you led, share your results. Numbers speak louder than words!
FOUR:
Create a professional profile on LinkedIn.
According to a recent interview we did with an active Job Recruiter, up to 90% of employers and hiring managers prefer an applicant with a LinkedIn account. (are you as surprised by that as we were?)
Your LinkedIn profile should reflect the information that you present in your resume. You should have a professional photo of yourself; a head and shoulders shot is recommended.
For info on how to get started on LinkedIn, see our social media marketing post How to Get Free Traffic to a Website (Updated Guide). Scroll down to the LinkedIn sub-category, and see how you can create a new LinkedIn profile in minutes.
7 Resume Tips to Get the Job
If you've been searching, or plan to start searching, for a work-at-home position, then be sure to follow these tips to get your resume seen and get the callback you're waiting for:
Keep your Resume to 1 page in length
Use job-specific Keywords
Include your Skills suited to at-home success
Include your Experience suited to at-home success
Be Honest, Professional, and Concise
DO NOT include LOL's, emojis, fancy fonts, unrelated or inappropriate information. This is NOT a social media post. (You'd think this should go without saying. Unfortunately, in today's world, it does not.)
PROOFREAD before you send! Ensure that your resume is error-free; that you are using correct structure, grammar and spelling. Imagine how it looks to the hiring manager if you claim to be "detail-oriented" and have spelling errors. It's not real convincing.
Be sure to list any prior Telecommute job experience. You'll notice when you start applying to work-at-home positions, that a lot of the jobs prefer, or even require, previous remote experience.
Don't let this discourage you!
This is mostly due to the fact that to be successful in an at-home position, a candidate must have excellent time management skills. The employer needs reliability, dedication, and on-time work completion.
The reality is that a lot of people fail working at home because they don't have the discipline to work without punching a clock, or a supervisor looking over their shoulder. An employer would rather hire a remote worker with some experience to decrease the risk of a newbie not performing.
So, how do you get hired?
Look for entry-level remote positions. They may pay less, but when you have some experience under your belt, you can either request a performance-based raise, or search for a new higher paying work-at-home job.
Feeling confident? Apply to any remote position! If the employer only receives resumes from newbies, then (s)he will call on the most qualified applicant according to their defined skills.
SELL YOURSELF!
---
---
Free Work-at-Home Resume Template #1
Here's an example of modern resume that could be used by someone with a degree and a few years of related work experience, for a remote legal assistant position:
---
Lisa Anderson
246 Main Street, City, State, Zip
(123) 456- 7890
landerson@EmailProvider.com
PROFESSIONAL SUMMARY
Competent and efficient Legal Assistant with 4 years of exemplary-rated performance at We Win Law Office, providing administrative, clerical, and research services to several attorneys in family, civil, and criminal cases. Transcription accuracy average of 98.6%.
CORE QUALIFICATIONS
disciplined time management
strong written communication and interpersonal skills
Word, Excel, Outlook, Westlaw proficient
records management, including medical
email and calendar management
claims and invoice processing
Type 75 wpm
EXPERIENCE
2015-2019
Legal Assistant | We Win Law Office, AZ
Draft briefs, complaints, summonses, motions, arbitration statements, subpoenas, trial documents, appeals, and discovery requests. Prepared pleadings and motions, organized documents, made filings with courts, scheduled depositions, and transcribed dictation. Maintained heavy call volume and calendars. Managed incoming emails. Communicated effectively with all attorneys, paralegals, and clients.
* this short paragraph could also be presented through bullet points if you prefer.
EDUCATION
Bachelor of Science – Political Science | Clemson University | 2015
---
---
Try Building your Resume now!
Law Depot offers a Free Resume Builder, as well as documents you may need if your at-home job has you working as an independent contractor or freelancer. Check out all of their free documents here.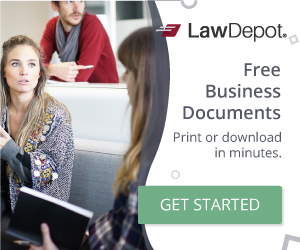 ---
---
Free Work-at-Home Resume Template #2
Here's an example of modern resume that could be used by someone without a degree and only a couple years of related work experience, for a remote accounting position:
---
Sarah Wheeler
246 Main Street, City, State, Zip
(123) 456- 7890
sarahwheeler@EmailProvider.com
PROFESSIONAL SUMMARY
Accurate and efficient Accounting Assistant with 2 years experience in an established firm. Resolved a 6-month billing backlog, bringing all accounts receivables up to date, and reducing the 90+ day outstanding A/Rs by 67%.
CORE QUALIFICATIONS
Data Entry
Verbal and Written Communication Skills
Word, Excel, Quickbooks proficient
Invoicing and past-due A/Rs
Account Management
EXPERIENCE
2017 – 2019
Accounting Assistant |  My First Accounting Firm, TX
Processed all current monthly billing statements. Managed all 30, 60, 90+ day A/Rs. Implemented a revised collections process that greatly reduced the outstanding A/Rs. Organized all digital client account files. Effectively communicated with clients as needed via phone or email. Accurately completed all data entry spreadsheets.
* this short paragraph could also be presented through bullet points if you prefer.
EDUCATION
On-the-job Training | My First Accounting Firm | 2017
ABC High School | Austin, TX | 2016
* do not add High School info to a resume unless it is your highest completed education
---
---
Bonus Template! Your Cover Letter
If the job you are applying to requests that you attach a Cover Letter to your Resume, then you'll want to create one that has also has attention-grabbing keywords, and makes you stand out immediately.
Cover Letter Template
---
First and Last Name
Home Address
Phone Number
Email (see TIPS below!)
Date: Month, Day, Year
Hello (Hiring Manager) OR (Your Professional Greeting),
I am applying in interest of the (job title) position, as advertised on (job site).
I have # of years experience with (related job skills) OR # of years experience working from home. I have great attention to detail, and I work well both independently or collaboratively with a team.
(Add your exact-match keywords here; such as "I am proficient in Microsoft Word and Excel.")
I have a dedicated, quiet, home office work space with high speed internet and video capabilities. (or other office and equipment requirements that may have been mentioned in the job posting)
I have included my Resume for your review.
Thank you for considering me in your company's expansion,
Respectfully (or Sincerely),
Sign Your Name
Print Your Name
---
E-MAIL TIP: Do NOT use an email that is unprofessional, immature, disrespectful, racist, provocative, etc. If your only e-mail address is the 'awesome one you created as a teenager,' take 2 minutes to create a new email address to use for business purposes. I can tell you from my own managing and interviewing experience, that it is a major turn off to see a distasteful email address on a resume. Do yourself a favor, and don't put a negative connotation to your name before you've even interviewed!
Examples of E-mails You Shouldn't Use:
sxc_btch@emailprovider
hottie69@emailprovider
superaf@emailprovider
iluvbjs@emailprovider – No one, but you, will know that, back in the day, you were a serious Britney (Jean) Spears fan, okay?
You get the idea. No employer wants to see those.
Examples of E-mails You Should Use:
firstlastname@emailprovider
firstnamenumber@emailprovider
lastnamenumber@emailprovider
firstInitialLastname@emailprovider
Keep it simple. Use your name, if it's available. Numbers are often used and acceptable. Try not to use dashes, underscores or other symbols.
You want to at least begin in the good graces of the person you wish to hire you. Be professional!
---
RELATED: Home Jobs That Are Legit (Quick Cash AND Long-Term)
How to Start an Online Business for Free with Wealthy Affiliate University (Review)
---
Search Remote Jobs Now: Legit Online Jobs at Home (Where are they?)
---
I hope you found this post to be helpful, and best of luck in landing your next work-at-home job!