Everyone is looking for more money these days, and there are a lot of 'extra cash' options available. But, what options are worth your time? I recently wrote an article about the online job market, and afterward I felt the need to write a tandem article with a list of legit home jobs for people to browse. So, this is that article.
There are many different types of at-home jobs, some of which can create full-time income, and some of which are more of a side hustle. Here's a list of various options, and though we like to focus on making money online at BYIO, I've included some more traditional and currently popular home jobs as well. You're likely to find one or two things here that you can do to create that extra income you're looking for.
~ Some of our articles may contain affiliate links. For more information, see our Disclosure Statement.
Home Jobs That Are Legit

37 Ideas to Make Money at Home
First on the list because they are very popular, always hiring, and easy to start making money immediately:
Ride Share Jobs
The modern Taxi. Chances are that you've used them a time or two by now. The job is to pick people up and take them to their destination. It's easy to apply and there is currently a bonus offered if you complete a certain number of hours within three months.
Another job that has you playing the Taxi man. If you'd like to make money driving around town and conversing with total strangers, this is the job for you. Pick people up. Drop people off. Get paid.
Both companies verify ID and insurance, of course. Pay varies, as you receive customer tips in addition to your job pay. For more information, click on the company links.
TIP: Many drivers work with both companies to ensure they stay busy during their designated working hours.
---
Delivery Jobs
Another option for making some cash ASAP. People have reported between $11 and $20 /hr with these.
Pick up people's food orders and deliver to them. Sign up with an online application, your driver's license, and proof of insurance. Flexible hours. Currently they pay on Thursdays via direct deposit per their website FAQ's.
Same concept as GrubHub. Food pick up and delivery. Flexible hours. Set up Instant Pay and receive same-day pay.
Pick up and delivery service for food, drinks, and retail items. To sign up you must provide a selfie along with your ID. Once identity is verified you receive a delivery bag and a prepaid card to start your delivery business. Flexible hours. Weekly deposits or instant cash outs.
Two Roles available:
Full Service Shopper. Receive customer orders through an app, shop, bag, and deliver. Flexible hours. Weekly pay as an Independent Contractor (self-employed).
In-Store Shopper. Shop and bag only. No delivery. Flexible hours, weekly pay as a part-time employee.
---
Pet Care Jobs
This is a great option for anyone who loves animals. You make money (up to $1000/month per Rover's site) by either caring for pets at your own home, or at the owner's home while they are away. Although you can advertise on your own, with a local Craigslist ad for instance, the attraction to using an agency is that clients have the ability to use a caretaker that has been through a background check and has reviews for them to reference. A background check and reviews are important especially to those who opt for their pets to remain in their own home for care.
---
"Office" Jobs
Virtual Assistant
This is becoming a more popular at-home job. Companies can save money by hiring remote workers, and at-home workers can make a decent hourly wage. The job may include a multitude of tasks such as data entry, payroll submission, bookkeeping, accounting, scheduling, answering incoming calls, returning calls, managing HR documents, managing company e-mails, managing social media accounts, etc.
You can find several VA jobs posted on Indeed, Monster, LinkedIn, and all the major job sites.
Here are a couple of places that are always looking to hire new talent:
Time etc – Virtual Assistant Job Online – VA service business created by a former assistant of Sir Richard Branson, and reportedly used by companies such as Google and Facebook. Easy to apply for a Freelance position. No international competition as jobs (and services) are available only to US residents.
24/7 Virtual Assistant – Virtual Assistant Job Online –  Company with international clients all over the world. Simply e-mail your resume to be considered for a part time or full time position. Average pay is currently $10 – $12 an hour.
Depending on the work load, and hours, you could secure more than one position to maximize your earnings.
Want to increase your chances of being hired? Complete a course designed for virtual assistants and receive your Virtual Assistant Certification
Social Media Manager
Yes, this is a thing! Love social media? This may be your dream job. Businesses know that social media platforms are wonderful for expanding brand awareness, but they can suck up a lot of time, especially if a business is marketing on several platforms. Social media managers handle all of the daily liking, following, posting, commenting, replying and advertising so owners or other staff don't need to take time away from their primary duties.
Job Recruiter
Help companies meet their staffing needs by interviewing applicants, then sending those who are qualified on to the HR department for hiring. Large companies that routinely see high turn-over in employees need someone to routinely interview applicants and find new employees. Most times experience is needed for this position, and it requires a headset or mic and camera with a program such as Skype to complete the interview.
Aira (EYE-ruh)
This is a unique at-home job position that I first mentioned in Legit Online Jobs at Home (Where are They?) This company provides direction assistance to the blind. You use Google Maps to navigate from start to end point, and dictate the directions to your client via a headset. There is an application process which includes a test of your ability to give accurate directions. You will need the headset (or speakers and a microphone) to complete the test. For more information, see the post link above.
The role: a GoodStart Mentor. The job: Help people by calling to remind them to take their medication. You are an independent contractor here with a flexible schedule. The process is apply, complete the GoodStartU courses, and earn money for your service.
---
Amazon Jobs
Deliver packages for Amazon! Set your own schedule and make between $18 – $25 / hr. Flexible work hours and opportunity to earn 7 days a week.
Amazon FBA
If you have your own products and want to sell them on Amazon, you can take advantage of FBA, or Fulfillment by Amazon. You ship the products you want to sell to Amazon, where you instantly have access to Amazon's customers (Billions!) and Amazon ships directly to your customer when they order through Amazon.com. Basically, this puts your products in front of their customers so you don't have to find your own. Genius!
This is a method also used by people who have no product of their own. They buy thrift store items, or items on deep discount at retailers, then re-sell them through FBA for a profit.
TIP: Read This Book First – "Product Research 101: Find Winning Products to Sell on Amazon and Beyond" by Renae Clark
Amazon E-book Writer
Amazon makes it easy to self-publish your work. Whether you're writing an instructional course, a short story, or a novel, you can sell it on Amazon. There is no fee to publish with Amazon, but Amazon will keep a percentage of your e-book sales.
Mechanical Turk
Micro-tasks such as simple data validation and research, survey participation, and content moderation in an online crowdsourcing workplace.
---
Random Jobs
Task work and odd jobs that usually take little time and pay little amounts for doing so. Completing these mini-services can add up, though. Some people make a living just working through Fiverr. The downside is no consistency or security. You have to continuously look for tasks to complete. That said, this is best used as a resource for extra money.
One of the most popular sites for online work. A lot of business outsourcing and one-and-done task related jobs. Better pay for positions with qualification requirements. This site is worth checking regularly for new listings.
---
Writing Jobs
If writing is your thing, and you're looking for more than the $5 – $15 payout on microtask sites, then you want to head down these paths:
Freelancing
There are a lot of places you can get paid to submit articles covering a broad range of topics. Writing jobs vary greatly when it comes to pay, and those with experience can make full time incomes. Job sites often have listings for full time positions paying $4,000 – $5,000 month. How many hours does that require? I don't know. If you're a fast writer, and the job requires articles, not hours, then that could be a sweet gig. Some jobs pay per article, with a minimum number of words required, and other jobs pay per month with a required number of articles.
Blogging
Ever wonder why so many people start a blog? Curious as to how people make money simply writing posts to their own personal website? The answer: affiliate marketing and advertising. Throughout the posts, writers strategically place affiliate links to products that relate to the information they're sharing. Any sales produced through those links kick back a commission to the writer. The more established your blog is, the more posts you publish, the more quality content you share, the more readers you obtain, the more income you make. It's a time and numbers game.
To learn how to successfully start your own blog, with easy to follow step-by-step instructions see my review of Wealthy Affiliate, and visit this WA information page. It takes time to build, but produces passive income forever. (So it's never too soon to start, or too late!) It's the secret online money maker of many at-home workers. Now, you know.
E-books
If you spend ten minutes looking at pins on Pinterest about creating money with e-books, you might find yourself quickly writing your own. The process is fairly easy. Use your blog niche, or pick a subject on which you can share your knowledge, write your e-book, and self publish on Amazon. You can find ideas, guidelines, and templates on Pinterest. Start by viewing the Pinterest pins that I've saved with information on how to be an e-book success. As mentioned above, there is no fee to publish with Amazon, but Amazon will keep a percentage of your e-book sales.
Recommendation:
"The 1-Page Marketing Plan: Get New Customers, Make More Money, And Stand Out From The Crowd" by Allan Dib
Number 1 Best Seller with over 1000 5-star reviews on Amazon. Beneficial to anyone looking to start or scale any type of business. Easy to read. Simple to implement. Comes with Allan's WARNING: Do Not Read This Book If You Hate Money.
Subscriptions
Not as common a choice, but a good one if you have, or find, something of value to offer. This can work with a product or a service, and can create automatic customers and repeat sales. There are books available to teach you exactly how to build your own subscription business, and you can find them on… you guessed it, Amazon.
** Two highly rated books to get your subscription business started:

1. "The Automatic Customer: Creating a Subscription Business in Any Industry" by John Warrillow
2. "The Membership Economy: Find Your Super Users, Master the Forever Transaction, and Build Recurring Revenue" by Robbie Kellman Baxter
---
Online Courses
If you have something to teach, there are people waiting to purchase your courses on these platforms:
The largest selection of online course instruction. I have personally bought and completed courses on Udemy, and love the platform. You can find instruction on any topic, and, of course, create your own courses to sell here to 30 million students worldwide. They offer a 3 step process to create your course with provided instruction, worksheets and tools.
Create and sell your own online courses to an audience of over 18 million students. They offer a 5 step process to create your course and earn money when students buy it.
There are also popular tutoring sites, which you can read about in this article Legit Online Jobs at Home (Where are They?)
---
RELATED: If you might be interested in at-home courses that provide desirable certifications in the insurance or real estate industry, check out the options available at 360 Training and kick start your new career! Be sure to watch the banner ads for limited time discounts!

---
At Home Rentals
Most people are familiar with Airbnb by now, which has become a commonplace alternative to a hotel stay while traveling. As an Airbnb host, you rent out your home, or a space in your home, to travelers who are looking to save on lodging, be near a specific location, or just want a unique vacation experience. Another income opportunity here is to host experiences. You can earn by playing tourist and leading people to your favorite places.
Did you know that you can also rent out your vehicle?
It can be hard at times to find an affordable car rental, and some people are turning to private renters. Turo offers a way to rent out your vehicle when you're not using it. If you have a vehicle that spends a lot of time in your garage or driveway, then you could make some serious money by renting it out, and it's insured in case anything happens.
You can rent out your parking space, driveway or extra garage space. This is most useful if you live in a metro area or close to an arena or event center where parking garages or lots fill up fast.
---
Side Jobs You Can Turn Into a Business
Often times, a side job or hobby can evolve into a lucrative business. Here are a few ideas that are easy to start:
House or Business Cleaning
Buy yourself the essential cleaning supplies and advertise your availability! This is one of the easiest start-ups as it doesn't take much, and once you have a few regular clients, you can make a pretty decent living. If you get enough referrals for long-term contracts, you can even hire staff and expand your business.
After-School Care or Nanny
There are many families with kids who attend after-school programs that are quite expensive. You can offer a more cost effective or age-appropriate alternative by providing after-school care in your home. You determine your availability and price, as well as whether you will provide any pick-up service or require bus drop off to your home. For younger children, at home care is very desirable and those seeking a private nanny expect to pay more for such care.
Photographer
Love to take pictures? Hone your skill, and build a portfolio to advertise your talent. There is always a need for baby pictures, family pictures, graduation pictures, wedding pictures and businesses often hire for staff photos to upload to their company website. Also check out stock photo sites, such as Shutterstock, or apps, such as Agora or Premise (available in your mobile Play Store), where you can sell any type of images to people all across the globe.  If you have a good eye and a good camera, you could be earning from that hobby of yours.
Inflatables
No joke! You read that right! Have you ever rented an inflatable bounce house for a birthday party or other event? Do you remember how much you had to pay for that? Purchasing the inventory you need to get this job bouncing is no small investment, but at the going party rates, it wouldn't take too many to get your investment back and start turning a profit. The key would be to find a combination of popular and unique bounce houses, then advertise locally. Expect to work weekends with this gig, and it's usually seasonal.
Handmade Items
Whether you choose to craft your designs with wood, metal, canvas, fabric, yarn, or food, homemade items are always a hot seller. You can sell to your geographical area through local marketing and community events, as well as online to scale your business. (see Etsy shop below)
---
RELATED: Free forms and documents are available at LawDepot to help you create and protect your home business. Find Business Plans, Service Agreements, Contracts, and more. Use their Resume Builder to generate a custom resume to land your at-home job.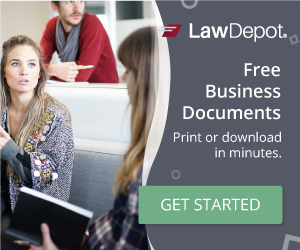 ---
Various Types of Online Gigs
Domain Names Resale
Like to buy and sell? A domain is a piece of online real estate that you buy and own as long as you continue to pay the domain fee. If you search for and buy good domain names, you have opportunity to sell them for a profit. The trick is to find quality in-demand niche domains. This is not fast money, and can be risky if you can't sell the domains you buy, but there are many people using it as an extra income source.
Website Evaluator
Companies are happy to pay people to test their website and give feedback on things such as function, user-friendliness, usable links, eye-appeal, ad placement and other features. Definitely not a full time gig as a typical job is about $5-$10 for about 15 minutes of work. It's an on your lunch break kind of gig, if you're not scrolling through your Facebook feed.
Etsy Shop
If your handy or crafty, you may have what it takes to run a successful Etsy shop. Love woodworking, sewing, painting, or designing tees on your Silhouette? A lot of people search Etsy when looking for homemade things, such as wooden decor signs, metal signs, children's blankets, unique printables, jewelry, knit hats and sweaters, etc. If you have an item that you can make, you can probably sell it here.
Shopify Owner
Don't have your own products, but like the idea of running your own online store? Interested in a successful e-commerce business? You can start a Shopify site and use affiliate programs to stock your "shelves." Sell physical products or digital products through a pre-built site with your choice of theme.
Dropshipping Biz
Sell products through your own website that you purchase from third parties and ship directly to your customer without ever having to store your own inventory. Low-risk way to sell products for a profit without a high investment.
TIP: Read This Book First – "Dropshipping: A Step By Step Guide On How To Make Money Online With Dropshipping" by Dan Moore
YouTube Channel
No, it's not a myth. You can make a great deal of money putting videos on YouTube. You can even start with your Smartphone. Much like blogging, the more quality content you create, the more followers you will attract, the more money you can make. Pick a niche, start recording, and build your audience. What do you do? Do you! Be authentic. If you already have a website, you can create videos of your blog posts and send people to your website. It's a good traffic source. See the YouTube Partner Program for more details.
---
*** Keep in mind that whenever you start your own business, there are rules and laws to follow. You will need to seek that information after you decide which ventures to start. We don't offer law or tax advice and recommend you discuss your unique needs with your business planner or CPA regarding any business licensing and insurance.
---
RELATED: Legit Online Jobs at Home (Where are They?)
---
Keep Reading!
Find more articles like this on our Blog Page!